Sustainability
---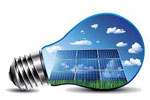 Sustainability- Sustainable energy
The company has always believed in nurturing a responsible relationship with the environment and through this contribution, we hope to influence other entrepreneurs to make India a pollution free nation.
ECOLUTION- REUSE AND RECYCLE
Staunchly committed towards the cause of environmental conservation, CHOPRA INTERNATIONAL has always laid utmost importance to inculcating eco-friendly practices. The production of our floor furnishings is governed by a 'reuse and recycle' policy. Recycled denim, yarn made from rice husk, recycled hosiery fabric and leftover yarns are used to make rugs and durries.